CRLS Research Guide
Cambridge Rindge And Latin Research Guide
Making Source Cards



Tip Sheet 4
Ask these questions:
What are they?
They are index cards (you can also use notebook pages, a word processing document or database document) on which you put all of the information you will need about all the sources you use.
Why will I need them?
They will help you to:
identify the sources of quotations and ideas for citing your sources later (giving credit to your sources).
find sources again if you need them.
make your works cited (a list of the sources from which you used borrowed material in your project).
How to do it:
Use index cards to make your source cards, or keep a few notebook pages reserved for this information, or make a word processing or database file for them. If you use index cards, use only one card per source.
Code each source its own number, starting with the number 1. You will later link your notes to these code numbers.
Sample Source Cards:
There are many, many different types of sources: books, websites, videos, tv shows, people, to name a few.
Below are examples of source cards for two different kinds of sources. If you do not know how to create a source card for a source you are using, look at the tip sheet called
Making a works cited list
for guidance on which information you should be included.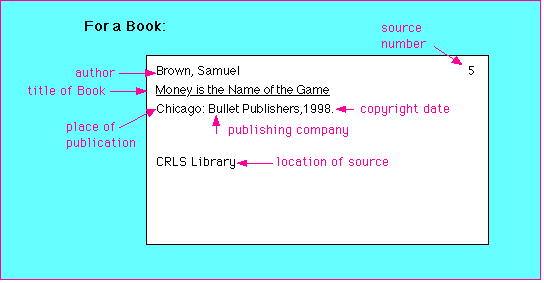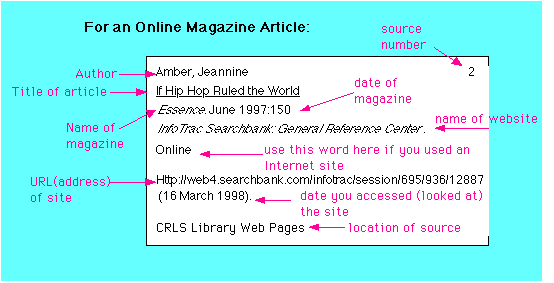 WHERE TO GO FROM HERE:
Copyright © 2004 Holly Samuels All Rights Reserved